Transformer Patio Conversation Set - Modular 6 Piece to 10
Multi-functional & adjustable modular outdoor set that doubles its seating to fit up to 10 people
Regular price
$3,624.00 CAD
Regular price
$4,532
Sale price
$3,624.00 CAD
Unit price
per
Grey Wicker / Grey Cushion
Free Delivery Over $999
USA, Canada & 30+ countries.
0% Interest*
Pay in 12 months with klarna.
Dimensions

Package Dimensions

54"L x 37"W x 34"H

Section With Armrests

31.5"L x 35.75"W x 26.5"H

Section Without Arm Rests

31.5"L x 24"W x 26.5"H

Seat Base Height

19"

Arm Rest

31.5"L x 4.5"W x 26.5"H

Weight & Support

Per package (4 seaters + 1 ottoman): 151lbs/69kg

Each section can withstand up to 500 lbs.

Materials

Each piece in the Transformer Outdoors set is made of weather-proof resin wicker, giving it the look and texture of natural wicker with the durability, weather and UV resistance of resin. Our resin wicker is made from high-density polyethylene, a commonly recycled material without any heavy metal plasticizers. It is a non-toxic and environmentally friendly choice.



All cushions and accent pillows are constructed from weather, UV and mildew resistant fabric. The fabric is woven from tough acrylic fibres to create a high-performance fabric that is stain resistant. We also add a special finish to the fabric to enhance water repellency, making sure it stays vibrant for years to come.

Care

Fabric Covers

The fabric cushion covers are all machine washable for easy cleaning. Please ensure to let them air dry after washing. Do not use the dryer as to not shrink the covers.

Resin wicker

Resin wicker has a textured surface so it is important to use a soft bristled cleaning brush and mild multi-surface cleaner or soapy water (one part mild soap to 8 parts water) to clean all surfaces. Use a toothbrush to get into any corners that the cleaning brush can't reach. Rinse and let dry completely.

Outdoor Cushions

In order to clean your outdoor cushions, first of all, make sure you brush off excess dirt and vacuum before using any cleaning product. Prepare a cleaning solution of mild soap and warm water. If you use too much soap, it will be hard to get it all out. Using a sponge or a soft bristle brush, clean the material and allow the cleaning solution to soak into the fabric. After you've cleaned the cushion, rinse thoroughly to remove all of the soap residue. Finally, take the cushions off of the furniture and stand them up on their sides to allow the fabric to air dry thoroughly before use.

Re-treating outdoor fabric for easy cleaning

All of our Transformer Outdoors fabrics have a special finish that enhances water repellency. The finish is designed to last for several years of normal use, but may be refreshed after a thorough cleaning or extended use. We recommend the 303 High Tech Fabric Guard as the preferred re-treatment product for any outdoor fabrics. However, there are many equivalent products that are perfectly fine.
High-end modular outdoor furniture
The Transformer Patio Set is built and designed to accommodate any outdoor space and occasion. Doubling in size in seconds, this Patio set is meant to be the ideal space saving and versatile seating arrangement for your patio or terrasse. Built from high-end resin wicker and weather resistant fabric, this Patio Set will last the test of time even in the harshest of environments.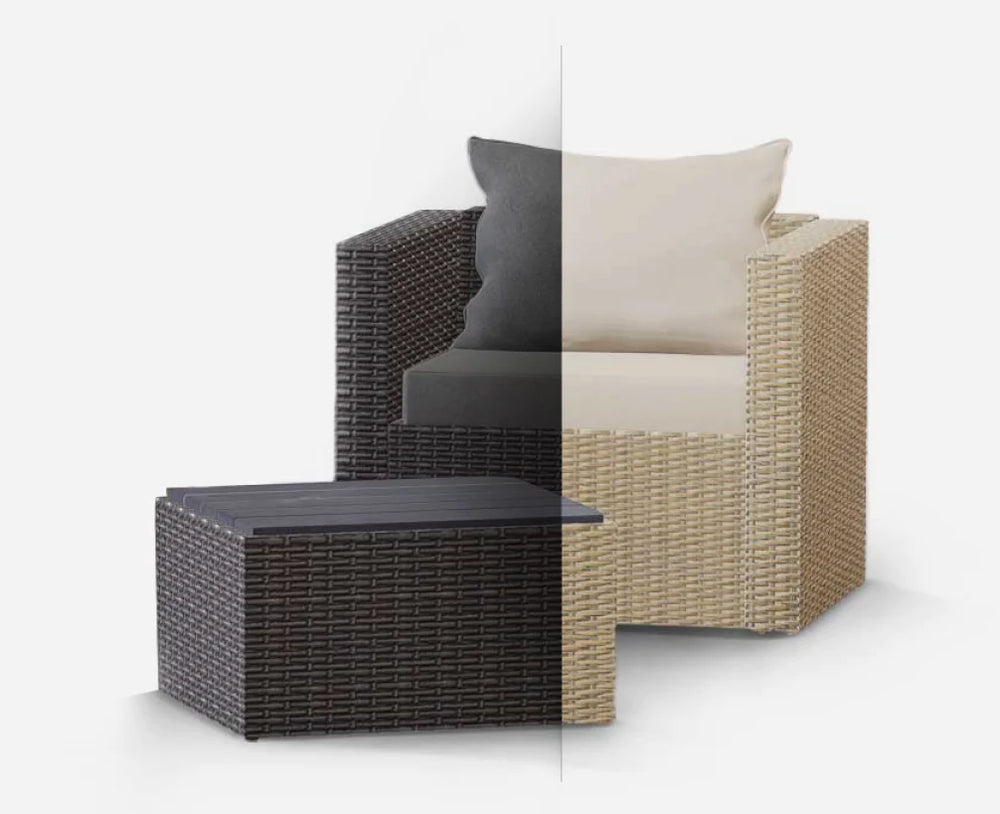 2 colors available
Our Transformer Patio Sets aren't only multifunctional and versatile, they are also a beautiful addition to your outdoor space. All of our Patio sets come in 2 different wicker finishes and 2 fabric colors.
Premium Materials
High quality wicker and light weight aluminium.
Easy to Clean
It's crucial that dining furniture be easy to clean - all you need is a damp cloth and gentle cleaner.
Water Proof
The ceramic lacquer finish also provides a level of water resistance to your solid wood piece.
How It Works
Ultimate adjustability and convenience - double your seating in seconds! The totally modular Transformer Outdoors set includes hidden seats and adjustable sections that can transform your patio set into dozens of different seating configurations.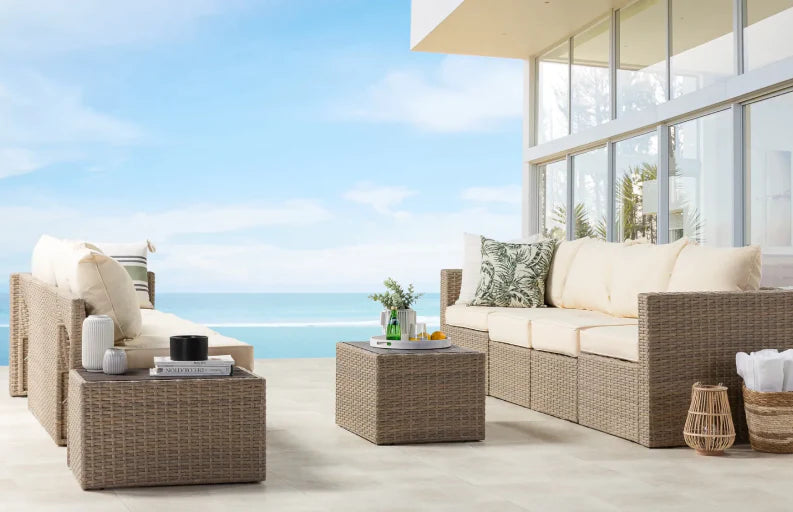 Choose the Perfect Set
Choose the set that best suits your outdoor space.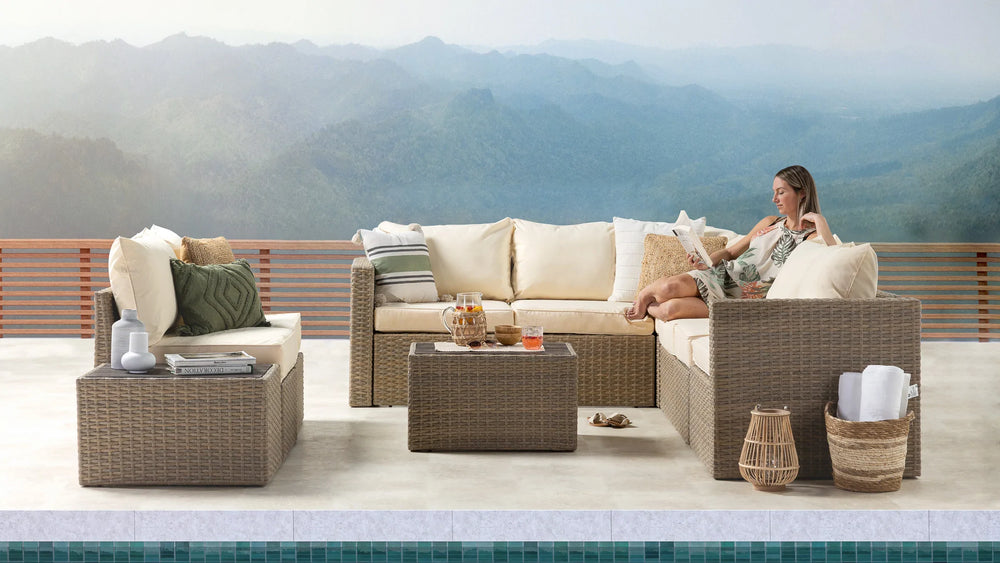 Enjoy It
The perfect outdoor lounge set for a party, a BBQ, or a relaxing family afternoon.