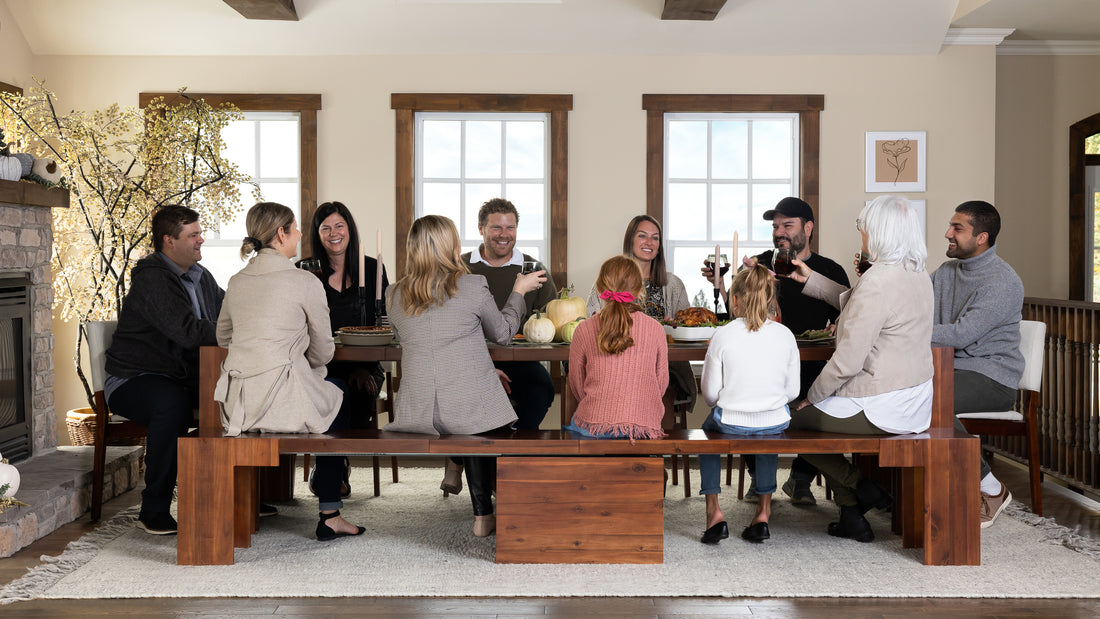 Thanksgiving Table Decor Your Guests Will Be Thankful For
Share
Set the table, set the tone - here are ideas you can take home.
If you're like us, you've been waiting for Thanksgiving all year long. There's nothing quite like it - it's a time when you can unplug, connect with those around you who matter most, and fill your home with the most delicious scents coming straight from your kitchen. Appart from counting your blessings, chances are you've got plenty more on your plate to think about if you're the one hosting this year. Most importantly, you've had to hatch out your Thanksgiving menu, send out the invitations to your loved ones, and do plenty of shopping as you've prepared for the coming of this special holiday. But, have you remembered to think about your Thanksgiving table decor this year? Whether this element has slipped your mind or you just need a little push of inspiration, we're here for you. Here at Transformer Table, you could say we are quite the experts at setting up tables - especially for the holidays!
Step 1. Choose Your Thanksgiving Table Runner
Time to start setting your Thanksgiving table! First things first, the base of any table setting is to pick out the tablecloth or table runner of your choice. In our case, we favour the table runner as it lets your dining table's beauty shine. Keep the colour basic and neutral to let the next decor elements you choose stand out more. 
In this setup, we chose a natural linen table runner to dress our American Mahogany Dining Set. We love the contrast that it creates with the deep colour of the table's finish. 
Step 2. Stick to Natural Earthy Tones for Your Thanksgiving Table
Naturally, you will want to stick with a predetermined color palette to ensure your Thanksgiving table decor ties in together nicely. For this year's fall festivities, we love to keep things toned down with a warm and earthy theme. Keep it simple and feel the peace that emanates from sticking to the basics. 
Keep the bright colours for another celebration - Thanksgiving is all about spending quality time with your family without distractions. Here, our Canadian Dark Oak Transformer Table looks splendid with a more minimalistic arrangement. 
Step 3. Let Your Thanksgiving Centrepiece Steal the Show
Next, what tablescape is complete without an elegant centrepiece? While it doesn't need to be grandiose, a centrepiece should definitely be the key piece in your Thanksgiving table decor plan. Unleash your creativity and put together a simplistic centrepiece that adds a touch of depth to your setup. 
It doesn't need to be complicated or elaborate, a nice homely centrepiece is all you need. As soon as we added this one to our Canadian Dark Oak Transformer Table, the tablescape was completely transformed. Playing with different heights in your decor pieces helps to balance everything out. 
Step 4. A Thanksgiving Tablescape Is Never Complete Without Pumpkins
Why do we love pumpkins so much? Who knows, we just do! They are beyond adorable and Thanksgiving is pretty much your last chance to showcase them in your decor. Don't miss this opportunity and let your pumpkin-loving-self run wild. Drizzle a few small ones along your table runner, or use a triad of them as your Thanksgiving centrepiece. No matter how you choose to go about it, you simply can't go wrong incorporating at least a few pumpkins.
Pumpkins come in different colours, sizes and shapes - let your imagination do the talking, or should we say the decorating! 
Step 5. Bring in the Fall Flowers & Foliage 
With winter right around the corner, now is the time to enjoy fall flowers and the lovely colourful foliage while they last. Create a dreamy bouquet and use it as a Thanksgiving centrepiece, place fallen leaves along your table runner, or simply set down a decorative flower on each plate setting. Possibilities are endless when you let nature in on the celebrations! 
Our American Mahogany Transformer Table is the perfect receptacle for your warm-toned autumnal decorations this Thanksgiving.  
Step 6. Incorporate Seasonal Fruits & Vegetables Into Your Design
Have some gourds, persimmons, or pomegranates laying around, just waiting to be eaten? In the meantime, why not include them in your Thanksgiving table decor! Any seasonal fruits or vegetables will do - simply use what you have on hand. This is a minimalistic and ecological option that your wallet will thank you for. Bonus: they will still be good to eat afterwards! 
We always get excited about multifunctionality here at Transformer Table. Fruits & veggies as a Thanksgiving centrepiece? Utter genius. 
Step 7. Less Is More - Leave Room for the Food 
Now, we're sure we've left you with plenty of Thanksgiving table decor ideas to get you inspired this holiday season. Appart from celebrating with family and sharing your gratitude with your dearest friends, we all know what's really important when it comes to planning a successful Thanksgiving dinner - and that is… FOOD! No matter how you choose to decorate your Thanksgiving table this year, remember that less is more. Don't crowd your table with decor: leave room for the main attraction. 
Don't sweat it too much, no one will notice the lack of decor if your dining table is full of food - which we're sure it will be. 
TT Family - we're thankful for you & wish you all the best this holiday season.
Happy Thanksgiving!