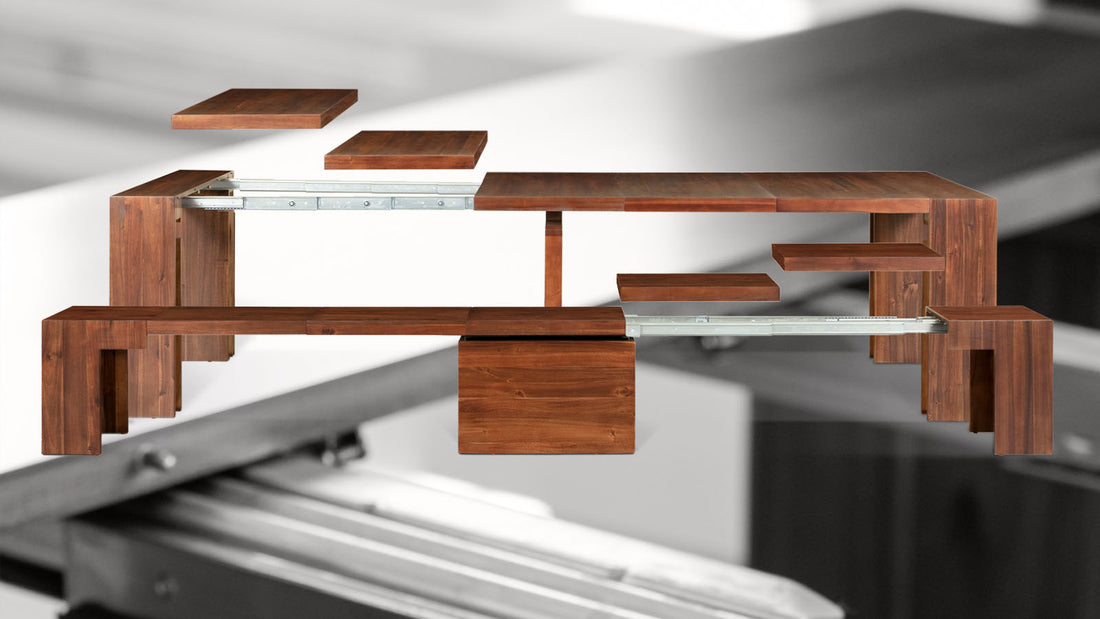 Modular Furniture: Don't fall for false hype!
Share
Most 'modular furniture' really isn't. How can you tell the difference?
Everyone's jumping on the modular bandwagon, and who can blame them? More people are living in condos and apartments, which means they're dealing with different size rooms, changing needs, and the stress of moving to a new location. Having furniture that's easy to transport and adjusts to any size is a huge bonus. 
Modular furniture promises some pretty cool things – everything from beds to shelves to sofas and dining room tables that can be scaled up or down to fit. Want it bigger? Add as many panels or sections as needed. Want it smaller? Disassemble or collapse it. 
So what's the catch? None, provided you choose the right modular products. Unfortunately, too many tables and sofas marketing themselves as "Modular" really aren't. Others are poor quality. Still others are too difficult to adjust. Finding authentic, reliable modular furniture amidst so many false promises is a challenge.
Read on to learn how to avoid making an expensive mistake:
Beware of fake 'modular'
A Google search will show plenty of furniture billing itself as "Extendable", "Multifunctional", or "Modular". Beware of the fake hype! Most dining tables calling themselves by these names are nothing more than traditional large tables with an extra panel or two. They expand slightly, but cannot become smaller. 
Sofas marketing themselves as "Modular" often refer to limited adjustable sections. Beware of "Modular" sofas that are just regular sofas with an add-on or two. Check carefully to verify the ability to change size, shape, and configuration. 
Some advertised items are truly modular; others are no different than they were decades ago – bulky, heavy, barely changeable. Do your homework! If all you're getting is a minor transformation, you're buying marketing, not modular. It's like calling your car 'modular' because you added a bicycle rack. 
The Transformer Table is the most modular dining table in the industry. Simply put: No other dining table offers such complete adjustability while looking elegant in every size. The Transformer Couch is made from completely modular sections that can become any shape you imagine. Even its colour is changeable by slipping on a different fabric. 
Beware of poor quality
Is your modular table made of quality wood, or is it wood imitation like MDF? Real wood can have natural flaws, like anything organic, however a dining table made from genuine hardwood has a longer, more attractive lifespan than composite materials, offering a level of quality in its look and feel that imitators cannot duplicate. 
Well-made modular furniture will give you many years of trouble-free use, however even the best-engineered item may need repair in rare cases. That's the unavoidable reality of having intricate mechanisms, along with many moving and removable parts. 
To protect yourself against natural or manufactured flaws, check the warranty and customer service. Customer reviews are great, but make sure the comments are recent! 3-year old reviews are not relevant if the product has been upgraded in the past two years.
Transformer Table is the industry leader in innovative, quality modular furniture, with an excellent reputation for workmanship and durability. The Transformer Table is made from 100% high-quality wood in a choice of finishes. Its wood has a one-year warranty and the mechanisms carry a lifetime warranty. The Transformer Couch has a one-year warranty.
Beware of the 'Schlep' factor
Less expensive modular furniture often requires assembly. Labour can take between 40 minutes and multiple hours. You might save money up front, but balance the savings against the time spent putting it together, along with the risk of assembling it incorrectly or damaging your furniture. 
How easily does your modular furniture transform? There's no point buying a modular item if reconfiguring it is a major schlep. Quality modular furniture can be expanded, collapsed, and adjusted easily by one person.
The Transformer Table and Couch are engineered for ultimate ease. The Table arrives fully assembled, ready to use right out of the box. Panels can be added by one person and can be stored in a matching coffee table. The Couch can be snapped together into any configuration in minutes. No wasted time. No strained muscles. No schlep.
Master of the Modular Domain
If you're looking for "Modular", Transformer Table is like nothing you've seen before! The upstart company leads the industry with a line of furniture that combines attractiveness and adjustability with an unparalleled ease of use. Their
dining room
,
living room
, and outdoor patio furniture will add a touch of elegance to your home, giving you ultimate control over the shape and size of your decor.