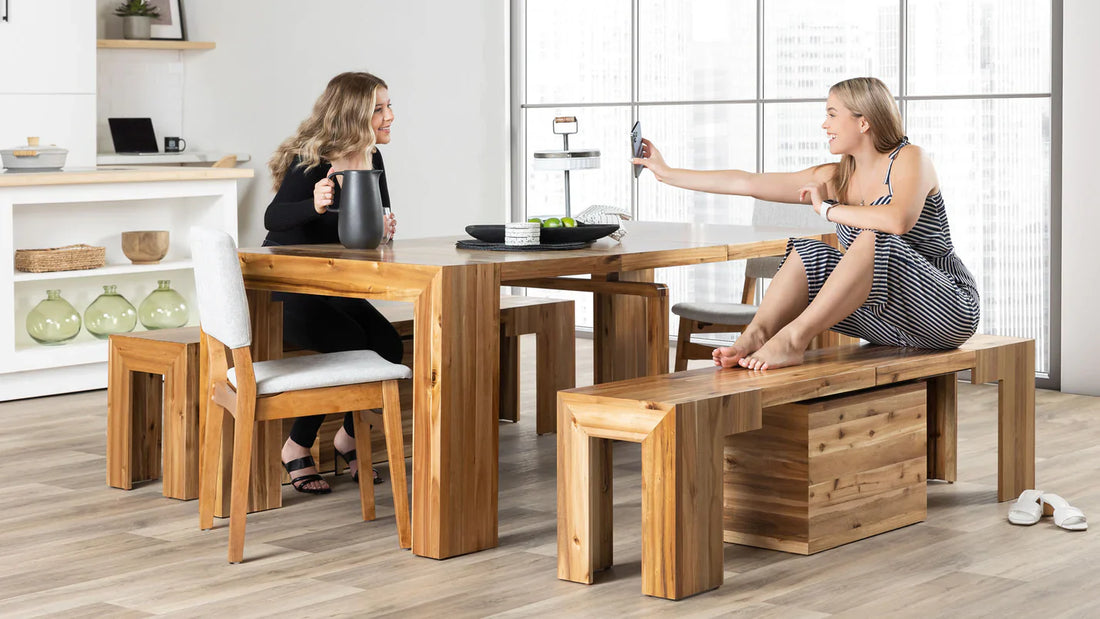 Amazing Multifunctional Furniture Ideas
Share
If you have heard the term "multifunctional furniture" and are looking to better understand what this is all about, this post is for you. Below we will delve a little into some great multifunctional furniture ideas and the advantages of using some of these types of furniture in your home. Before we go any further, let's start by clarifying the basic concept.
What Is Multifunctional Furniture?
Multifunctional furniture is a category of practical furniture which serves various functions. Generally, a common feature of this type of furniture is that it incorporates extra storage capacity. Currently, there is a wide range of multifunctional furniture ideas that offer elegant and creative solutions that can look stylish in addition to being ingenious.
Advantages of Using Multifunctional Furniture
Choosing multifunctional furniture can carry several remarkable advantages, especially when you live in an apartment or house with limited space. Even if your home is spacious, multifunctional furniture can add a touch of ingenuity and style to your spaces. In general, some of the advantages using multifunctional furniture can offer you are:
Space Maximization
In some houses or apartments where space is limited and remodeling to expand is not an option, using the right furniture may be the most viable option. For example, if you can't have a separate guest room, you could swap out your traditional sofa for a pull-out sofa bed or daybed in your living room or den to take advantage of the space and use it as an extra room.
Money-Saving
When you have a piece of furniture that can serve several functions at once, you eliminate the need to buy different pieces of furniture for each function separately. For example, let's say your home is tight on space, but you occasionally have guests over; you could opt for an ottoman instead of a traditional coffee table or change your side tables for poufs. In this way, you could use them as extra chairs when you have to receive other guests and avoid spending money and extra space that implies getting other chairs.
Clutter Reduction
Overcrowding is one of the inherent drawbacks of small homes, and in addition to taking a bit of beauty out of each room, it makes them look less inviting and smaller. Many pieces of multifunctional furniture also become space savers by offering additional storage space, which helps you keep each area feeling airier and more spacious, consequently making them more inviting.
Multifunctional Furniture Ideas
Of course, there are more traditional multifunction options like chairs, tables, or beds, but, if you type "multifunctional furniture" into your search engine and take a moment to browse, you will find some genuinely incredible combinations. So, if you want a better idea of ​​the types of multifunctional furniture you can get for your spaces, here are some cool multifunctional furniture ideas that can be very useful in the redecoration of your home.
Dining Table
A dining table can be more than just that – especially when your home is small – it can help you use the same space in different ways. There are multifunctional dining tables that you can use as a desk or that have storage spaces built-in. This can help you transform your dining room into your home office. If you have little space, but often receive guests you can opt for a transformable table that can double its size in a matter of minutes and make extra space for your guests.
Chairs
Some chairs can convert into stepping stools, and others can be chairs and tables simultaneously and can even have storage space such as ottomans. Some multifunctional chairs are also bookcases, and there are others that you can transform into tablets. In fact, when it comes to multifunctional chairs, there are really incredible options that can give a completely different twist to our spaces.
Couches
The most common couches in this category are sofa-beds. There are multifunctional sofas that offer more options than others, but some convertible modular couches can provide infinite possibilities in terms of adaptability and functionality in your spaces.
Bathroom Furniture
When organizing your bathroom, especially if it is small, saving space is vital. There should be enough space to store toiletries, bath towels, and other bathroom-related items. Having functional storage spaces is also very important when you share a bathroom with your partner, children, or when there is only one bathroom in the entire home.
Luckily, there are plenty of multifunctional bathroom furniture ideas these days, like hangers with storage shelves above the toilet, sink stands with built-in storage cabinets, paired shelves with hangers, and built-in storage bins that can be of great use.
Outdoor Furniture
When you start digging a little into the world of multifunctional furniture, you will realize that there are multifunctional furniture ideas for all home spaces, including the patio and the garden. There are innovative outdoor furniture ideas, and some incorporate technology into their designs, from folding tables with storage capacity, lawn chairs, and recliners that can transform into beds, transformable coffee tables, and a lot of other ideas.