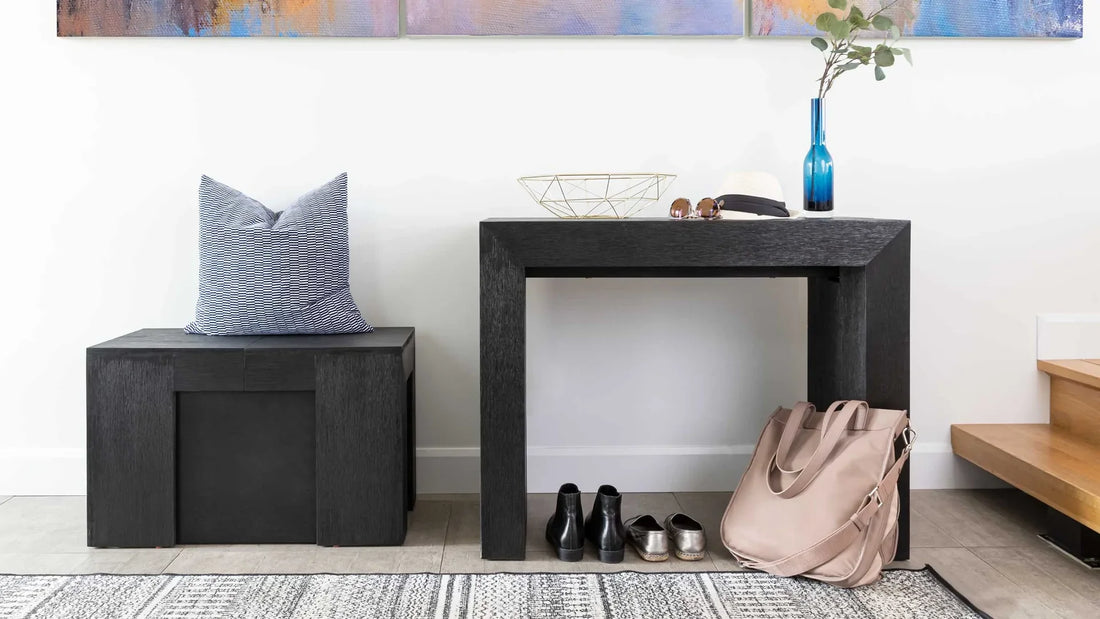 Advantages of Space Saving Furniture
Share
If your home has little room to spare for trendy or custom-made decor, it can be hard to find the right furniture to fill in that space. That's one of the prime advantages of space-saving furniture; these pieces are built to fit into small spaces and still add a little character to a room.
People who have limited living space will, at the very least, consider decorating their homes with transformative furniture. Unlike traditional sofas, tables, and other household items, transformative furniture can extend or contract depending on the changing conditions of the room. If you need to save more space, you can adjust the layout of your transformative sofas, chairs, and tables to accommodate that, and vice versa.
So what are some of the other advantages of space-saving furniture, and how can you use those benefits to help you decorate your home accordingly? Let's look into those questions and come up with some helpful answers.
What is space-saving furniture?
First of all, let's get a clear definition laid out before you to digest. What exactly is space-saving furniture? How do you define space-saving furniture compared to other types of furniture?
Space-saving furniture is designed to make the best use of available space. People who live in major urban cities are especially fond of space-saving furniture, particularly those living in apartments or condo towers. These units are typically small in size and high in cost, meaning a certain amount of flexibility and style are necessary to create unique decor for the home.
Space-saving furniture allows urban residents to create custom looks for their homes that reflect their own tastes and characteristics. It's a great win for compressed urban living!
How to choose space-saving furniture
How you choose space-saving furniture depends largely on the dimensions of your home. You need to get a sense of how much total space you have available, and then subtract from that the amount of space that furniture could take up. You still want to make sure you have enough room to move around comfortably without tripping over your expensive furniture.
For example, let's say you have a condo and the bedroom is large enough to fit the bed itself with little space to spare for things like a dresser. A space-saving bed would include options to store your clothing in fold-out drawers underneath the bed, replacing a standard box spring with space-saving accommodations. You can store as many clothes as you need in the bedroom without taking up any more space that would limit your ability to walk around in the room.
This is just one of many ideas that come from the advantages of space-saving furniture. Take into consideration the dimensions and available space in your own home to start brainstorming clever space-saving ideas of your own.
Advantages of space-saving furniture
Let's say your home is a small condo, but you'd like to entertain friends and family from time to time. A nice dinner party is a great way to bring people together, share a few laughs, and develop intimate bonding sessions with the people you really care about.
The only challenge is that your available dining space is very limited in a condo. The advantage of a space-saving dining room table is that you don't need to compromise your grand plans due to limited space. A transformer dining room table can expand and collapse depending on what you need.
When the party is not in session, you can compress it down to a small apartment-sized table that can easily sit in the middle of your dining space without taking up additional room. The next time you have people over, expand it back out again and enjoy another household party!
Where to buy space saving furniture
If you're going to invest in space-saving furniture, you want to trust the brand as a provider of quality transformative products. Companies that are dedicated to upholding the merits of quality material, innovative construction, modular engineering, and classic design are your best options to purchase space-saving furniture.
Perhaps more than anything else, you want to buy from a company that has a stellar reputation with past customers. Reviews on transformative furniture will help you feel comfortable introducing those types of products into your home and making the best use of their space-saving advantages.
Trust the feedback of your fellow homeowners in order to take the leap into the world of transformative furniture. When you can trust the brand and trust the quality of the products, you can make a very decorative living space throughout your entire home without any concerns about using up too much of your free space.