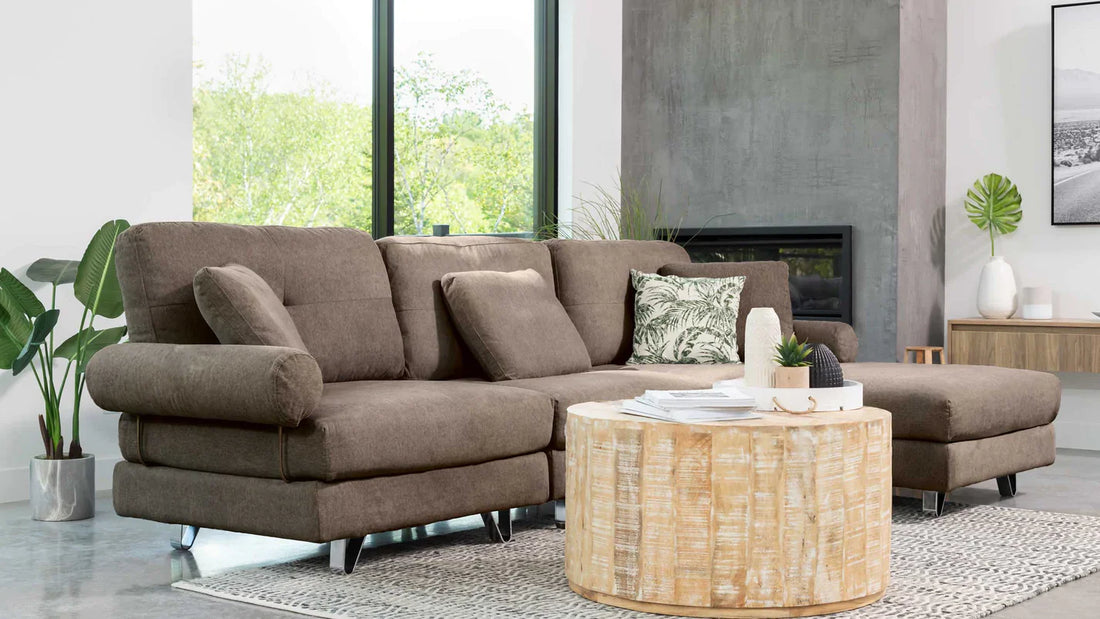 Small Modern Sectional Couch
Share
A small modern sectional couch is easy to move and position into a fixed living room space. Despite the word "small" used in the description, it actually has the ability to make your living room appear much larger when positioned in the right way.
This is one of the reasons why a small modern sectional couch is such a popular choice of furniture, especially in big cities. Many people in big cities live in condos or apartments that have very limited space, requiring some clever and creative tips and tricks to create a comfortable living room. A small modern sectional couch allows homeowners to position the furniture in ways that they couldn't do using traditional furniture.
What to consider when buying a small modern sectional couch
Customization is key when it comes to selecting a small modern sectional couch. This is one of the many benefits of this type of furniture; you can literally increase or decrease the amount of space it takes up in your living room depending on the needs of the moment.
Suppose you and your loved one live in your home, and the living room space is small but comfortable. You have enough floor space to seat a small modern sectional couch without concern, and there's still plenty of space to move around the rest of the room.
Now, suppose you plan to have guests over to your house. You'll need additional seating to make sure everyone is comfortable as you sit around and catch up together as a group. Using your modern sectional couch, you can add more space to the seating area and open up room for your guests to quietly and comfortably enjoy themselves during the visit. Once the gathering is over, you can reset your modular couch to its original dimensions and have that space back.
Types of small modern sectional couches
Modern sectional couches don't have to just be for small spaces. While there are designs that are built specifically for those types of living rooms, there are also different types of sectional couches that also use the same modular framework to customize the look and feel of the room.
It's also important to keep in mind that what's best for a small living room can also work just as well in a larger space. You may need to add a little more scale and depth to the idea for a smaller space into a larger room, but the basic concepts are still the same. You want to strike the right balance between comfort, style, and functionality. There should also be plenty of room for you and your guests to walk around at ease, but there shouldn't be so much that it makes the room feel unfilled.
One-piece modular couches
This is the prime example of a small modern sectional couch. A one-piece modular couch resembles a comfortable chair and, in its unmodified form, is big enough to comfortably seat two people without hassle. It also includes customizable pieces that can expand wider and deeper depending on your needs so don't feel like you're limited in having guests over by going with a simple one-piece modular couch.
Two-piece modular couches
The two-piece modular couch is customizable in the same way that the one-piece couch can modify within the room. The difference with this piece is that, in its standard design, it resembles a traditional loveseat sofa that many couples have in their own homes.
Three-piece modular couches
This is the next piece of the modular set, functioning very similar to both the one-piece and two-piece couches in its ability to expand and contract whenever needed. The main difference with the three-piece couch is that it most closely resembles a full traditional couch that is at the heart of millions of living rooms everywhere.
Four-piece modular couches
Adding to the three-piece modular couch is the four-piece setting. The four-piece modular couch includes an additional seating space on the end of one side of the sofa, resembling an L-shaped couch that is very popular. It allows people to comfortably sit on the couch in normal settings, and the additional seating space that makes the L-shape invites people to lay down more comfortably and rest after a long day.
Five-piece sectional couch
Now we get into some of the more creative designs. A five-piece sectional couch can be arranged to resemble two three-piece couches that create one large seating area. This is a great type of couch to place in the room if you have two walls that meet in a corner. The couch can rest comfortably against both walls and create one large seating area in the room.
Six-piece sectional couch
The six-piece sectional couch resembles the five-piece sectional in terms of structure and design, but it has one key difference. There's an additional seating piece that can be moved alongside any space of the couch, resembling a portable ottoman for additional foot space or a place to sit an extra guest.
Layout ideas of small modern sectional couches
One of the key benefits of small modern sectional couches is the seemingly endless layout possibilities available to the owners. You could have upwards of 10 sectional pieces to move around and arrange in whichever way you see fit. Again, you can set the furniture in one way for when it's just you or your loved one in the home, and then you can rearrange it into different pieces spread throughout the room if you have guests visiting.
You can find a number of creative sectional couch layout ideas on Pinterest for inspiration. But remember to treat each of those ideas as merely inspirational suggestions. The layout that will work for you will depend largely on the space and dimensions of your living room.
For example, if you have clear-cut corners in your living room, a one to the two-piece modern sectional couch would be ideal to fill in that space. It creates a cozy seating area in the corner of the room that can expand and modify depending on the needs of the day.
On the other hand, if you'd like to have a formal seating arrangement in the middle of the room, you could use a six, seven, or upward of ten-piece modular sofa and break up the larger furniture into smaller pieces arranged throughout the room. You can have a coffee table or an ottoman in the middle of the seating area so that each piece of the couch is arranged comfortably around the conversation piece.
There are many layout ideas for small modern sectional couches that you can play with to determine what's best for you. But the key thing to remember is that the optimal look should be uniquely designed for your living space and the dimensions that it allows.
Benefits of having a small modern sectional couch
The two biggest benefits of having a small modern sectional couch are the versatility and the customization that it allows. A modern sectional couch is one of the most customizable pieces of furniture that you can own, and you can convert it from a couch to a chair and even into a sofa bed with no hassle.
One of the challenges of interior decoration is that, sometimes, the initial look you settle on can feel tired or stale after many years. It can be a real challenge trying to change or spruce up that look due to the difficulty of moving furniture in and out of the house. Modular furniture takes away this entire problem. You can rearrange the pieces at your convenience and create an entirely new living room layout whenever the mood strikes you to do so.
Due to their versatility, small modern sectional couches can be assembled in a variety of ways. They're also easier to fix or replace than traditional furniture. If you have a traditional couch, you need to replace the whole thing if there's damage to its integrity. However, a modern sectional couch doesn't have that limitation. If one piece of the sectional is damaged, it's far more cost-effective and faster to repair than having to purchase an entirely new couch as a replacement.
Go with multifunctional space-saving furniture
If you've got a living room in need of new furniture, or you're ready to upgrade your home with a more modernized look and feel, a small modern sectional couch is one of the best investments you can make. The benefits of this type of furniture far outweigh any costs, and you can literally arrange your living room layout in practically any way you see fit. Don't wait for another second; get your small modern sectional couch today!