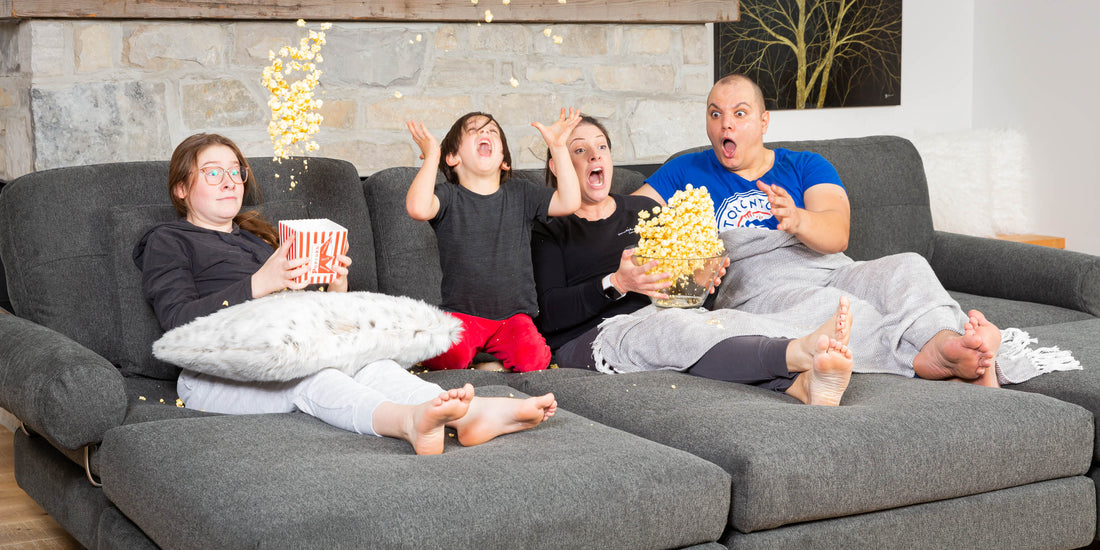 Basement Furniture Ideas for You to Consider
Share
We often view the basement as a dark space hidden below the house. There's no light or life, and it's most often used as a storage space for old furniture or out-of-season decorations. But it doesn't have to be this way! The basement has huge potential and adds more value and character to your home. Transforming your unfinished basement into a cozy and functional space is possible with some creativity. It could even become your favourite room!
Whether you'd like a game room or home theatre, we've put together a list of fantastic basement furniture ideas and designs for you to try.
Impress Your Guests with an Entertainment Space
There are quite a few interesting basement design ideas that focus on entertaining your guests. You can choose to focus on creating a space that's perfect for more adult entertainment, or one that's perfect for the whole family.
Bring Out the Basement Bar
A home bar provides an elevated, fun, and sophisticated space for entertaining your friends and family. You may opt for a dry bar, which only provides a space for preparing drinks, or a wet bar, which includes a sink. Should you choose to opt for the latter, you'll need to consider the plumbing.
Add in some dark wood cabinetry to create a mature and moody atmosphere for the basement feel. Place some bar stools for seating and don't forget the mini fridge for wine storage.
Wine Cellar
Do you consider yourself a wine connoisseur? Then why not kick it up a notch and add a wine cellar to your basement bar? However, take into consideration that a wine cellar needs to be dark, and free from vibrations. If your walls or floors vibrate too much, it will disrupt the wine's maturation process. You will also need proper bottle racks, and the room needs to stay at a certain temperature. Although a cellar might be a bit more challenging than a home bar, it'll still be a fantastic remodelling option for your basement.
If you have ample space, you can install an island where you can serve your guests pre-dinner drinks and it can serve as a conversational space. Remember to include storage space for glasses and other utensils you might need.
Level It Up with a Game Room
It's pretty easy to just place a pool table in the middle of the room and call it a gaming room, but that would be boring. Consider elevating the space by adding a modular couch. They are easily adjustable for extra seating and provide great comfort and relaxation.
You can add a TV and a console for a secluded gaming area away from the rest of the house. This way, no matter how loud you get, you won't have to worry about disturbing the rest of the family upstairs.
PC gamers will need a gaming table and chair. Note that these can be pricey, so you may opt for a regular office table instead. However, an ergonomic gaming chair would be a good investment if you're gaming for hours on end, as it helps to keep your posture correct.
Adding a ping-pong table or simply adding your board game collection to the mix makes your basement the perfect place for family get-togethers. Of course, you'll need a coffee table as a surface area to play or to place drinks and appetizers.
Create a Cinematic Experience with a Home Theatre
Going to the cinema for movie night is always a fun experience. But watching it in the comfort of your home is an even better experience! You save money, you can pause whenever you like and watch whatever you choose.
The most vital appliance would be your TV. However, you can upgrade your viewing experience by installing a projector instead. Of course, your home theatre would be incomplete without a comfortable seating area. You could use a normal couch or you can use a sofa bed for that extra comfort while binging on your favourite shows. Bring some extra flair to the basement by adding elements such as a popcorn maker or a slushie machine to make it feel like a real cinema. You can also add framed posters of your favourite movies on the walls.
Using Your Basement as an Extra Space
As previously mentioned, there are many finished basement ideas that you can bring to life with a bit of creativity. If the main house does not have enough space for your daily needs, why not use the basement to fulfill those needs?
Spare Bedroom
Instead of rolling out the air mattress or sofa bed, why not turn the basement into a spare bedroom? To create a living area in your spacious basement, consider adding a couch. A coffee table will also add to the feel of the living space.
Add your own personal style with decorative pieces, such as throw pillows on the couch and a beautiful table lamp on the bedside table.
You can install floating shelves on the walls to free up some floor space and place decorative pieces.
Install recessed lighting in your basement to create the illusion of height and brighten up the space. This is essential if you lack natural light and have low ceilings.
Studio Apartment
Whether it's for some additional income or to host a guest for a more extended stay, converting your basement into a studio apartment is a viable solution. Be sure to install a kitchen, bathroom, and living space. If you can't install a full kitchen, you may opt for a small kitchenette with a small kitchen table instead of a dining area. If you feel you need a dining table, consider an expandable dining table. You will also need to install cabinets for storage.
Turn Your Basement Into a Creative Space
Don't limit your basement remodel design to only entertaining guests. Transform it into a space for fun and creativity with the help of these simple ideas.
Personal Library
Having a personal library filled with your favourite books is a dream come true for all book lovers, and the basement is the perfect space for it.
The first thing you'll need is shelves to store your books. You'll need strong and sturdy shelves to support the weight of your ever-growing book collection. Making use of floor-to-ceiling shelves is perfect, as they help to room look bigger. This is essential if your ceiling height is low.
Living rooms aren't the only rooms where you can have a fireplace. Installing a vent-free gas fireplace is easy and light on the pocket, giving the room a cozier feel.
When selecting your seating, go for a plush and cushy armchair, as well as a soft ottoman to rest your feet. Place them in the corner of the room to create a reading nook or position them in front of the fireplace. For comfortable late-night reading, place a beautiful floor lamp next to the armchair and a side table for your hot drinks.
Arts and Crafts Room
Your basement remodel idea can turn into a craft room where you can have fun and enjoy your hobbies or produce exquisite creations of your craft. The furniture that you use will vary according to your hobbies and interests.
If you'd like to create a space where you and your kids can create art projects, then a craft room would be ideal. You'd need tables on which you can make your crafts, chairs for seating, and some shelves for storage. You can get a few easels and canvases for painting and perhaps a rolling cart to store your many paints and paintbrushes.
Should your interest be photography, consider turning the basement into a darkroom.
Functional Basement Ideas
Perhaps you're not one to entertain friends or you're not a creative soul, or you simply want your basement space to be functional and have a purpose. No matter the reason, here are basement remodel ideas that you can implement.
Home Office
Before getting office furniture, you first need to declutter the space. Working in a cluttered area can make it difficult to focus so be sure to remove all clutter from the area.
Next, you can paint your walls with an office-friendly colour. Your home office needs to be a space where you can feel comfortable and productive, so colours such as red and green will not work. You might assume that white walls are a safe option for your office, but this can make the room feel sterile.
After choosing the correct paint colour, you'll need to get the correct furniture. A comfortable office chair and desk are essential, especially if you're going to be sitting in front of your desk for a long time. You could keep a throw pillow or blanket close by in case it gets a little chilly.
Not all basements get natural lighting, and even if they do, you'll still need proper lighting if you're still working in the office after sunset. Consider the lighting that you already have and whether they provide the lighting that you need. If they don't, you can look into getting more wall sconces or some overhead light fixtures.
The addition of a coffee station or a small kitchenette can also make your basement feel more like an office. By doing this, you'll be able to have everything you need in one place without having to move between the basement and kitchen.
You will also need cabinets to store your office supplies.
Home Gym
As with your home office, clearing your basement of any clutter is the first step. In a home gym, clutter can not only be distracting but could also cause injury. So be sure to purge all clutter from the room.
Next, you'll need to consider the flooring. The best choice would be vinyl flooring as they're moisture resistant. You can also consider shock-absorbing foam gym floor tiles or foam tiles for a sturdy and strong surface.
Instead of using furniture, you will be using gym equipment. The equipment used will depend on the layout that you've chosen and the types of exercises you'd like to do. The most basic piece would be a training bench, however, it can be used for multiple purposes such as weight training and sit-ups. Other equipment to consider would be dumbbells, kettlebells, a treadmill, or a stationary bike.
An alternative to a personal gym would be a yoga studio. Your focus would be more on the entire look and feel of the basement instead of equipment, as you'll only need a yoga mat, and perhaps a yoga brick. Use cool tones for your wall to make the basement feel more relaxing. Also, consider using decorative pieces such as potted plants and knick-knacks.